Chestermere held its first Ringette School
First experimentation with No-Zone Ringette - Junior Houseleague
Coaches Clinics - Tech II - Oct 6
Tech I - Oct 20 & Nov 1

Beth Veale attended a Leadership Development Camp

Houseleague Tournament: Jan 31 - Feb 2, Southland Leisure Centre - Petite, Tween, Junior, Belle - Registration $130
Ref Clinics - oct 5 (Community), Oct 6 (Regional)
Ice Rental was $50.00 per hour
Bunny houseleague began
NU-STY-AL unbreakable Aluminum ringette sticks were manufactured
Alberta Winter Games - Feb 26 - Mar 2 - Hinton
Friendship tournament was held in Bassano in March
Finnair Ringette Invitational Tournament - Helsinki, Finland, March 28-31, 1986
Attended by Acadia Tweens and Calgary west Tweens
640 registrants with Ringette Calgary
The Ringette Gazette was produced by Baco Ohama, and the cover was drawn by Lisa Labrosse from the Properites B Petite team
The Canadian Ringette Championships were held in Regina, SK
Esso Resources Sponsors Tournament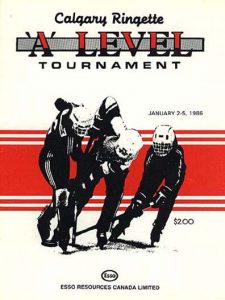 An "A" Level (rep) Tournament was held January 2-5, 1986 at Village Square.
Esso Resources sponsored the tournament for the first time.
Tournament organizers included:
Gord McPherson, Barry Reeves, Laura Webb, and Ray Lee
22 Teams competed at the Junior, Belle and Deb divisions
Junior Belle Champions - Calgary Classics
Belle Champions - Calgary Belles
Deb Champions - Edmonton Debs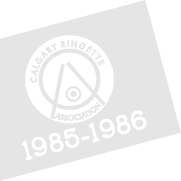 Executive:
President
Gord McPherson
Past President
Orvil Anderson
Vice-President
Ray Lee
Secretary
Beth Little
Treasurer
Jim Brodie
Directors:
Ringette Alberta Rep
Hugh Stepaniuk
Scheduler
Larry Christensen
Tournament Director
Bill Stabbler
Registrar
Marion Knight
Publicity Director
Bill Johnson
Ice & Scheduling
Gord McPherson
Officials Liason
Karl Revenco
City of Calary Rep
Bill Fraser
Director at Large
Judy Todd
Director at Large
Barry Reeves
Teams and Coaches
BUNNIES
 Properties
 Glenn Pennett
P

ETITE

Acadia
Bill Stabbler 
Bowness 
Les Pruden
Arnie Caplette
Fish Creek
Bruce Mortimer
Al Bamsey 
Heritage 
Jim Innes 
Lake Bonavista
Stephen O'Neil 
Parkland #1 
Larry Heise 
Parkland #2 
Ken Beagle 
 Parkland #3
Jill Press 
Parkland #4 
Mark Litwiller 
Triwood 
Norma Campbell
Pam Lindquist 
West Hillhurst 
Paula MacCluskey
Alex Finnie  
TWEEN
Acadia 
Karl Revenko 
Bowness 
Gerry Preuter
Dianne Preuter 
Fish Creek 
Rick Young
Dave Coles 
Heritage 
Liz & Gary Anderson 
Huntington 
Nancy Cernivz 
Lake Bonavista 
Brian Donahue 
Parkland
Jim Dielessen 
Properties #1 
Paula Hagel
Don Cameron 
Properties #2 
Glen & Dani Bell 
 Triwood
Frances Willis
Val Sears 
West Hillhurst 
Tina Holdaway
Lori Dallman 
JUNIOR BELLE
 Acadia

Stan Archambault
Mike Dube

Heritage 
Al Syverson 
Lake Bonavista
 Bob Thompson
 Properties #1
Ron Hume 
Properties #2 
Bob Broomhall
Mel Auin 
West Hillhurst 
Toni Holdaway
Elaine Holdaway 
BELLE
Heritage 
Norm Gossett
Harvey Page 
Thorncliffe 
Yvonne Armstrong 
Triwood 
Laura Webb 
West Hillhurst 
Nick Holdaway 
DEB
West Hillhurst 
John Morcom 
LADIES
Acadia 
Linda Fisher 
Triwood 
Ed Wahl 
A TEAMS
Junior 
Linda Tippin
Beth Veale 
Belle 
Shawn Curran
Carmen Bell
Maureen Hans 
Deb 
Bob Veale
Cam Bell 
CALGARY
JUNIOR BELLES
1985-86
CALGARY CLASSICS
Natalie Christensen
Terena Dengler
Joelle Dube
Audra Hiller
Tami Ironside
Stacy Kozak
Karen Lee
Claire Parker
Tanya Ring
Suzy Sayer
Cathy Sheldon
Mary Lynne Skippen
Ruth Wheadon
Coaches:
Beth Veale
Linda Tippin
The Calgary Classics played
in an intercity Alberta league,
and travelled to Saskatoon and
Toronto for tournaments.
CALGARY
BELLES
1985-86
Jacqui Brodie
Susan Curran
Melinda Finkbiner
Shauna Flath
Nadine Gall
Jennifer Harper
Jannine Kowalchuk
Cathy Milligan
Holly Reeves
Sue Rutherford
Kim Stepaniuk
Marnie Strachan
Robin Szakacs
Shelley Vernon
Coaches:
Carmen Bell
Maureen Hans
Hugh Stepaniuk
The Calgary Belles also
participated in an intercity
league, and travelled to
Saskatoon and Toronto.
CALGARY
DEBS
1985-86
Marlayne Brandsgard
Carmen Bell
Cara Brown
Lisa Brown
Sue Chudleigh
Kerry Hall
Maureen Hans
Kari Howell
Laurie Moore
Dawn Redmond
Linda Tippin
Michele Travis
Tracy Wake
Coaches:
Bob Veale
Mardelle Boutin
The Calgary Debs travelled
to Saskatoon and Toronto