Ringette Calgary's 43rd Season
There were 111 teams registered with Ringette Calgary and a total of 132 teams participated in Zone 123 League Play.
This was a very different year for Ringette Calgary due to the COVID‐19 pandemic. Our world changed in March of 2020, and ended our previous season prematurely and abruptly. In the fall of 2020, we launched what would become a short but memorable season, in a highly modified format to comply with local health management guidelines.
A Return to Play Committee (RTPC) was struck in the summer of 2020 and included:

Eva Hassel, AA Ringette Calgary
Trevor Wilkie, Bow View Ringette
Cathy Six, Childrens Ringette
PJ Lynch, Lethbridge Ringette
Sonya Venture, NW Ringette
Bob Curran, Referee in Chief
Kris Marshall, South Calgary Ringette
Andrew Higgins, Strathmore Ringette

The RTPC worked diligently to put together new policies and processes to support a safe return to play in the fall of 2020 in order to accommodate government restrictions due to Covid.
Cohorts were formed, sessions were built and games were scheduled and rescheduled based on changes to teams and/or cohorts, and isolation requirements.
The season came to a close on November 12th when the Government shut down youth sport in the province.
Due to low registration numbers Flex Ringette did not run this season.
The Don Henderson Memorial Ringette Scholarship was awarded to Lindsay Jone for the 2020/21 Academic year
As a cost saving strategy, the RC Board elected to temporarily close the office effective March 15 and issued a temporary layoff to the Administrative Assistant.
A Friend First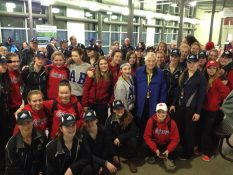 The Ringette Calgary community is sad to share that our good friend and Patron, Hazel Skinner passed away on May 22nd at the age of 92 years. Hazel was instrumental in the creation of the Friends First program and encouraged young women to be kind, support one another and pay it forward. We will always be grateful to Hazel for her support and will continue to carry her message forward as inspiration.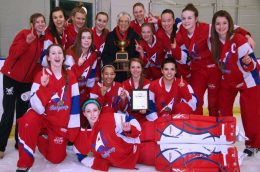 WCRC Legacy Scholarship
---
The "2015 Western Canadian Ringette Championships Legacy Scholarships" were announced at the Ringette Calgary Annual General Meeting. Applicants were scored based on their commitment to the sport of Ringette through playing, coaching, officiating and other volunteer activities as well as school and community participation and service.
Congratulations to Tristan Earle and Sophie Tsougrianis who each received $1000.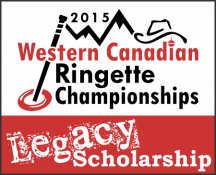 Esso Golden Ring
The 35th Annual Esso Golden Ring was scheduled for January 15-17, 2021
The EGRT Committee was prepared to offer a modified tournament to meet COVID requirements but it became obvious as the date drew closer that this was not going to be possible with the restrictions that were in place.
So, the committee decided to do a virtual "Spirit of Ringette" video parade.
12 teams submitted videos;

AA U14 Blue
AA U14 Red
Airdrie U14 Avengers
Bow View U12 Force
Bow View U14 Heat
BowView U16 Ballistic
BowView U19 Average Joes
BowView U19 Nerf
NorthWest U14 Ignite
NorthWest U14 Vanquish
NorthWest U16 Rebellion
South Calgary U12 Arsenal
No one failed to attend sign‐in, no volunteers failed to sign in for their shifts, there were no match or misconduct penalties
Media coverage included a print story in the Calgary Sun and Calgary Herald.
Executive
President
Erika Earle
Past President
Vacant
VP Administration
Laura Webb
VP League
Judy Renneberg
VP Technical
VP Planning
Dan Mitenko
VP Finance
Heather Stubbs
Directors
Publicity
Tania Katay
EGRT Liaison
Kate Coolidge
Gaming Director
Lise Stradeski
Sponsorship
Officials Development
Bob Curran
Sport Development
Coaching Development
League Scheduling
Ray Harris
Website
Laura Webb
AA Rep
Eva Hasell
Bow View Rep
Dwayne Earle
Northwest Rep
Tanya Graham
Sonya Ventura
South Calgary Rep
Lynette Zyznomirski
Calgary East Rep
Mary Pelland
CORA Rep
Eric Forst
Staff
Administration
Marlayne Brandsgard
Accountant
Gail Kerr
Division Coordinators
Children's Ringette
Coordinator
Cathy Six
AS/U10S1
Tanya Wttewaall
U10S2/U10S3
Sonia Smith
U12A
Tanis Budgell
U12B
Danielle Hargreaves
U12C
Tori Wohlfarth
U14
Kyle Bullock
U16
Jane Mozill
U19
Mary Pelland
Open
Steve Griffin
Officiating Committee
Referee in Chief
Bob Curran
Referee Assignor
Kristi Eldridge
Jasper Greysson-Wong
Development Coordinator
Kristi Eldridge
Ringette Calgary Liaison
Bob Curran
AA Committee
President
Eva Hasell
Past President
Kim Ung
VP League
Phil Bruno
VP Operations
Michael Mysak
VP Finance
Bev Brewster
Secretary
Liane Falconer
Teams and Coaches
Active Start
CBV-AS2-1 Ring Ninjas
Adam Feuchuk
CBV-AS2-2 Unicorns
Audrey Arnal
CNW-AS2-1 Ice Jets
David Wind
CNW-AS2-2 Pink Pandas
Kelly Pruden
CSO-AS1-1 Rainbow Unicorns
Brad Deets
CSO-AS1-2 The Mighty Tigers
Monica Russell
U10 Step 1
CNW-U10S1-1 Ice Crystals
Jen Paradowski
CNW-U10S1-2 Ice Warriors
Amber Bohaychuk
CSO-U10S1-1
Rick Cooke
CSO-U10S1-2 Stingers
Brett Wigelsworth
U10 Step 2
CBV-U10S2-1 Ring Leaders
Bronwyn Kotyk
CBV-U10S2-2 Ice Dogs
Catherine Pressacco
CBV-U10S2-3 Soul Crushers
Reagan Tyson
CBV-U10S2-4 Dashing Ponies
Sarah Livingstone
CNW-U10S2-1 Wolves
Cheryl Gallant
CNW-U10S2-2 Speedy Cheetahs
Blaize Fabbi
CNW-U10S2-3 Ice Wolves
Kelsi Urban
CSO-U10S2-1 Thunder Belles
Rich Pulles
CSO-U10S2-2 Snow Leopards
Laura Carter
CSO-U10S2-3 Ring Rockers
Ian Wilson
U10 Step 3
CBV-U10S3-1 Ring Robbers
Laura Woods
CBV-U10S3-2 Blaze
Jamie Keeley
CBV-U10S3-3 Bullets
Teena Feuchuk
CNW-U10S3-1 Predators
Chris Lister
CNW-U10S3-2 Ice Devils
Danielle Hargreaves
CNW-U10S3-3 Wolverines
Stacey Clare
CSO-U10S3-1 Ice Invaders
Chris Hutchinson
CSO-U10S3-2 Hurricanes
Pam Balderston
CSO-U10S3-3 Lightning
Ritchie Larson
CSO-U10S3-4 Dynamite
Sandy Hayer
U12A
CBV-U12A-1 Boom
Derian Harvey
CBV-U12A-2 Force
Shawn Earle
CNW-U12A-1 NRG
Robyn Fraser
CNW-U12A-2 Dynamite
Megan Fraser
CSO-U12A1 Rage
Amanda Weisbeck
CSO-U12A2 Rogue
Sherri Rogers
U12B
CBV-U12B-1 Adrenaline
Bruce Hanishewski
CBV-U12B-2 Devils
Cory Akins
CBV-U12B-3 Darkside
Tak Saruwatari
CBV-U12B-4 Venom
Taylor Assaly
CNW-U12B-1 Storm
Jason Zimmerman
CNW-U12B-2 Frostbite
Tona Laerz
CSO-U12B1 Arsenal
Jeff Popiel
CSO-U12B2 Kaos
Trevor Deeks
CSO-U12B3 Revenge
Eddie Choe
U12C
CBV-U12C-1 Avalanche
Amber Gugolj
CBV-U12C-2 Blizzards
Lisa McGillivray
CNW-U12C-1 Comets
Kristen Bellavance
CNW-U12C-2 Lords of the Ring
Erin Hafichuk
CNW-U12C-3 Wolverings
Sara Williscroft
CSO-U12C1 Ice Dragons
Brian Maksymetz
CSO-U12C2 Speed Demons
Charla Smith
U14A
CBV-U14A-1 Nova
Carl Heywood
CBV-U14A-2 HEAT
Chris Machnee
CNW-U14A-1 Ignite
Alex Bouma
CNW-U14A-2 Stealth
Curtis Stappler
CSO-U14A1 Crush
Kari Colpitts
CSO-U14A2 Thrashers
Dan Mitenko
U14B
CBV-U14B-1 Karma
Robert Renaud
CBV-U14B-2 Surge
Keri Metzler
CBV-U14B-3 Empire
Tania Kemp
CBV-U14B-4 Worst Nightmares
Trevor Wilkie
CNW-U14B-1 Vanquish
Ahren Engelbracht
CSO-U14B1 Impact
Brian Groundwater
CSO-U14B2 Whiplash
Sam Bryden
CSO-U14B3 Outlaws
Christopher Budra
U14C
CBV-U14C-1 Riot
David Little
CBV-U14C-2 Thrashers
Shawn Downey
CNW-U14C-1 Blaze
Thomas Vlasschaert
CNW-U14C-2 Nitro
Gord McQueen
CNW-U14C-3 Assassins
Paddy Marshall
CSO-U14C1 Velocity
Sean Siegers
CSO-U14C2 Hammer Headz
Dirk Snider
U16A
CBV-U16A-1 Edge
Chandra Otterson
CBV-U16A-2 CORE
Nicole Coyes
CBV-U16A-3 Reign
Tim Coninx
CNW-U16A-1 Rebellion
Tanya Graham
CNW-U16A-2 Adrenaline
Lauren Stanley
CNW-U16A-3 Rogue
Trevor Cochran
CSO-U16A1 Force
Parker Foord
U16B
CBV-U16B-1 Ballistic
Nelson Parkes
CBV-U16B-2 Elite
Terra Connors
CBV-U16B-3 Shock
Travis Nielsen
CNW-U16B-1 Voltage
Thomas Labelle
CNW-U16B-2 Phantoms
Ryan Williamson
CNW-U16B-3 Venom
Tina Pedersen
CNW-U16B-4 Stealth
Jill Olson
CSO-U16B1 Surge
Garth Ayres
CSO-U16B2 Bullets
Myron Gelleta
CSO-U16B3 Invasion
Tim Nyitrai
U19A
CBV-U19A-1 Average Joe's
Darren Long
CBV-U19A-2 Blitz
Dwayne Earle
CBV-U19A-3 NERF
Mark Yeomans
CNW-U19A-1 RUSH
Carrie Williams
CSO-U19A1 Badgers
Todd Sauve
U19B
CBV-U19B-1 Storm
Brett Fisher
CBV-U19B-2 Journey
Greg Fitzpatrick
CBV-U19B-3 BLUES
Lynn Ann Mageau
CNW-U19B-1 TIGERS
Randy Funkhouser
CNW-U19B-2 Strive
wesley munro
CSO-U19B1 Elite
Barry McQuay
CSO-U19B2
Ken Imlach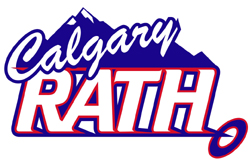 Calgary RATH finished XXX in the 20XX National Ringette League.
Alberta's NRL Award Winners: