Ringette Calgary's 41st Season
There were 105 teams registered with Ringette Calgary.
A total of 114 teams participated in Zone 123 League Play from U12 and up, 69 of which were Calgary teams.
In addition there were 27 teams registered with the Calgary Open Ringette Association (CORA), with a total of 34 teams in their league.
The Don Henderson Memorial Ringette Scholarship was awarded to Jessica Wager for the 2018/19 Academic year
Total Players 2018-19
Calgary Bow View
508
Calgary Northwest
437
South Calgary
400
Calgary AA
139
CORA - Calgary Open Ringette Assoc
509
WRAC - Women's Ringette Association Calgary
215
Canada Winter Games
---

After six months of training and competing for spots, the final roster was announced for  Team Alberta who attended the 2019 Canada Winter Games.

Congratulations to the following Calgary Athletes:
Shaelyn Corasiniti
Hannah Coyne
Kat Eamon
Maddy Galeski
Alyssa Hall
Ann Sauve
Marla Wheeler
Jenna Wolsey
The Canada Winter Games were held February 16th – 22nd, 2019 at the Collicutt Arena in Red Deer.
Ringette Night with the Flames
---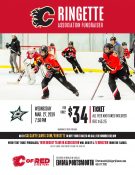 Ringette Calgary again partnered with the Flames organization for a great team building opportunity.
Wednesday, March 27th, 2019, the Flames vs. Dallas Stars
Tickets for anyone associated with ringette in the city were available with seats in a blocked-off section in the press level of the Saddledome
For each ticket purchased, the Flames donated $5 back to the association/participating team
Executive
President
Thu Blackwell
Past President
Garry Kane
VP Administration
Laura Webb
VP League
Erika Earle
Bill Graham
VP Technical
Ashley Stappler
VP Planning
VP Finance
Directors
Publicity
Tania Katay
EGRT Liaison
Judy Renneberg
Gaming Director
Lise Stradeski
Sponsorship
Officials Development
Bob Curran
Sport Development
Coaching Development
League Scheduling
Ray Harris
Facilities Director
Adrian Shorter
Website
Laura Webb
AA Rep
Eva Hasell
Bow View Rep
Kate Coolidge
Northwest Rep
Tanya Graham
Sonya Ventura
South Calgary Rep
Daxton Lesko
Calgary East Rep
Mary Pelland
CORA Rep
Robyn Fraser
Staff
Administration
Marlayne Brandsgard
Accountant
Gail Kerr
Division Coordinators
AS
Nicole Young
U10
Chantelle Edwards
U12A
Tanis Budgell
U12B
Tori Wohlfarth
U12C
Kyle Bullock
U14
Steve Griffin
U16
Jennifer Dunn
U19
Mary Pelland
 Open
Mary Pelland
Officiating Committee
Referee in Chief
Jaimie Nelson
Referee Assignor
Kristi Puszkar
Development Coordinator
Ringette Calgary Liaison
Bob Curran
AA Committee
President
Eva Hasell
Past President
Kim Ung
VP League
Phil Bruno
VP Operations
Michele Wheeler
VP Finance
Bev Brewster
Secretary
Zara Hande
WCRC Legacy Scholarship
---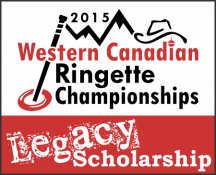 The "2015 Western Canadian Ringette Championships Legacy Scholarships" were awarded at the Ringette Calgary Annual General Meeting on May 22nd. Applicants were scored based on their commitment to the sport of Ringette through playing, coaching, officiating and other volunteer activities as well as school and community participation and service.
Congratulations to Jennica Murray and Lauren Chown who each received $1000.
Impact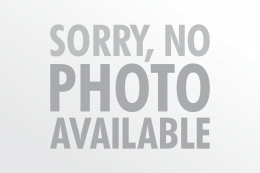 Resurge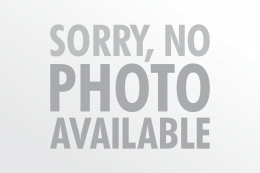 Open A Provincials:

Silver – Zone 2 Misfits
Bronze – Calgary Resurge
4th – Calgary Impact
5th – University of Lethbridge Pronghorns
8th – Calgary West Hillhurst
Teams and Coaches
Active Start
CBV-AS2-1 Rocket Rings
Jenny Crawford
CBV-AS2-2 Turbo Sharks
Sarah Livingstone
CNW-AS2-1 Tigers
Jenny Wood
CNW-AS2-2 Blue Unicorns
Stacey Clare
CSO-AS1-1 StarCatchers
Pam Balderston
CSO-AS1-2 PinkLightning
Chris Hutchinson
CSO-AS1-3 RingRockers
Warren Brown
U10 Step 1
CBV-U10S1-1 Pandas
Leanne Wamboldt
CBV-U10S1-2 Blue Unicorns
Michael Pacholski
CBV-U10S1-3 Ice Queens
Bruce Hanishewski
CNW-U10S1-1 Ice Breakers
Kevin Ector
CNW-U10S1-2 Ring Crushers
Shannon M. Smith
CNW-U10S1-3 Galaxy Girls
Kristen Bellavance
CSO-U10S1-1 Ringetterockstars
Jeff Huber
CSO-U10S1-2 IceWolves
Shawn O'Grady
CSO-U10S1-3 SnowFoxes
Sandy Hayer
U10 Step 2
CBV-U10S2-1 Purple Penguins
Curtis Joly
CBV-U10S2-2 Llamacorns
Derian Harvey
CBV-U10S2-3 Bullets
Lisa Brown
CBV-U10S2-4 Boomerangs
Shauna Johns
CNW-U10S2-1 Firecrackers
Erin Macneill
CNW-U10S2-2 Golden Oreos
Peter Best
CNW-U10S2-3 Icebreakers
Ahren Engelbracht
CSO-U10S2-1 Sharpshooters
Eddie Choe
CSO-U10S2-2 Howlinghuskies
Laura Niedermayer
CSO-U10S2-3 WolfPack
Stephen Miller
U10 Step 3
CBV-U10S3-1 Poison Ivy
Jessica Kirstine
CBV-U10S3-2 Bombers
Megan Zariwny
CBV-U10S3-3 KAOS
Shawn Earle
CNW-U10S3-1 Rogue
Robyn Fraser
CNW-U10S3-2 Nightmare
Megan Fraser
CSO-U10S3-1 FerociousFoxes
Amanda Weisbeck
CSO-U10S3-2 TheValkyries
Sherri Rogers
CSO-U10S3-3 Dynamite
Erin Hutchinson
U12A
CBV-U12A-1 G-Force
Chandra Otterson
CBV-U12A-2 RUSH
Chris Machnee
CNW-U12A-1 Atomic
Alex Bouma
CNW-U12A-2 RIOT
Chris Lister
CSO-U12A1 Strike
Kim Snethun
CSO-U12A2 Blaze
Kimberly Veale
U12B
CBV-U12B-1 Storm
Joanne Boettcher
CBV-U12B-2 Thunder
Michelle Chemelli
CBV-U12B-3 Riptide
Tania Kemp
CNW-U12B-1 Rampage
Grant Stefanowski
CNW-U12B-2 Kryptonite
Ross Aitken
CSO-U12B1 IceBreakers
Kari Colpitts
CSO-U12B2 Venom
Joe Giulford
CSO-U12B3 Eclipse
Dan Mitenko
U12C
CBV-U12C-1 Ice Rockets
Anne MacDonald
CBV-U12C-2 Hurricanes
Doug Inglis
CBV-U12C-3 Inferno
Keri Metzler
CNW-U12C-1 Blizzards
Gord McQueen
CNW-U12C-2 Hot Shots
Karen Marshall
CNW-U12C-3 Ice Ninja's
Jeremy Storer
CSO-U12C1 DareDevils
Shawn O'Grady
CSO-U12C2 FuriousFoxes
Christopher Budra
CSO-U12C3 Venom
Sean Siegers
U14A
CBV-U14A-1 GnR
Greg Fitzpatrick
CBV-U14A-2 Intensity
Nicole Coyes
CNW-U14A-1 Invictus
Lauren Stanley
CNW-U14A-2 Ignite
Tanya Graham
CSO-U14A1 Adrenaline
Gary McMurren
U14B
CBV-U14B-1 Ignite
Amber Johnson
CBV-U14B-2 Bandits
Rayleen Chaskavich
CBV-U14B-3 Eclipse
Todd Fralic
CNW-U14B-1 Subzero
Ryan Williamson
CNW-U14B-2 Eclipse
Gavin Grimson
CNW-U14B-3 Fusion
Trevor Cochran
CSO-U14B1 Royals
Joleen Humphreys
CSO-U14B2 Elite
Myron Gelleta
U14C
CBV-U14C-1 Madness
Terra Connors
CBV-U14C-2 Phantoms
Shawn Robillard
CNW-U14C-1 Super Nova
Thomas Labelle
CNW-U14C-2 Adrenaline
Dave Strathdee
CSO-U14C1 Crossfire
Kristie Bate
U16A
CBV-U16A-1 Blazers
Carl Heywood
CBV-U16A-2 Hype
Mark Yeomans
CBV-U16A-3 Surge
Tim Coninx
CNW-U16A-1 Nova
Jim Downey
CNW-U16A-2 RMBL
Jeff Boswell
CSO-U16A1 Strike
Melissa Leslie
U16B
CBV-U16B-1 Impact
David Sorkilmo
CBV-U16B-2 Charge
Devin Lowe
CBV-U16B-3 Scorpions
Lynn Ann Mageau
CBV-U16B-4 Menace
Steve Griffin
CNW-U16B-1 Fire
Bill Murray
CNW-U16B-2 Pulse
Tracy McCorriston
CSO-U16B1 Snipers
Barry McQuay
CSO-U16B2 Wildcats
Ken Imlach
U19A
CBV-U19A-1 Edge
Dwayne Earle
CNW-U19A-1 Heat
Eric Willerth
CSO-U19A1 Blaze
Todd Sauve
U19B
CBV-U19B-1 Havoc
Brett Fisher
CBV-U19B-2 Riot
Sue Piercey
CNW-U19B-1 N.A.
Pat Carley
CNW-U19B-2 Hurricane
Trevor Alm
CSO-U19B1 Wild
Sarah Painchaud
Open A
Blitz
Jackie Richards
Excel
Kathy Leonard
Excel
Scott Wolsey
Heat
Chris Belan
Impact
Scott Fuller
Resurge
Trina Janssens
U19AA1 Rush
Scott Armstrong
U19AA2 Rogue
Murray Pettem
UofC Dinos
Dwayne Romansky
West Hillhurst
Sarah Merla
Zone 2 Misfits
Dani Huisman
Zone 2 U19AA
Rob Wasylyniuk
Open B
Absolut
Steve Hutchison
Avalanche
Trevor Hall
Blaze
Tracey Plunkett
Blaze
Al Syverson
Defiance
Brittany Gray
Edge
Adrian Shorter
FSU
Sue Benson
Gladiators
Ed Wahl
Lions
Laura Niedermayer
Open C
Ruckus
Don Klapko
Bandits
Mary Ellen Larson
Cochrane Chaos
Colin Grusie
Craze
Lori Pilling
Craze
Cydney Hope
Fire
Bill Lewington
NW Penguins
Terry Yasui
Rockyford Ringers
Jill Kathol
Rockyford Rush
Fred Armstrong
Storm
Adelle Young
True North
Aron Shapiro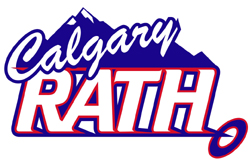 Forward:
Terese Mazurkewich
Julia Foster
Lauren Chown
Justine Exner
Shaundra Bruvall
Emily Foster
Lindsey Geddes
Jasmine Bearss
Shyla Bruvall
Tori Hart
Defence:
Nicole Prokop
Rachel Ung
Paola Romeo
Madison Bonsel
Rachel Grant
Jennica Murray
Natasha Harding
Kristin Exner
Jenna Wolsey
Tori George
Rylie Hart
Goalies:
Breanna Beck
Angela Crosby
Ellen Hoban
Bobbi Mattson
Staff:
Trina Janssens
Paul Geddes
Susan Foster
Calgary RATH finished 2nd in the 2018-19 Western Conference and 5th overall in the National Ringette League.
They won GOLD at the Canadian Ringette Championships.
Alberta's NRL Award Winners:
AA Teams 2019

Division
PROVINCIALS FINISH
WCRC / CRC FINISH
U14AA
Bronze - Calgary Red

Calgary Red: WCRC - Silver

5th - Calgary Blue
6th - Calgary White
U16AA
GOLD – Calgary Impulse

Calgary Impulse (Team AB):
7th at CRC's
4th – Calgary Core
Calgary Core: GOLD at CRC's

5th – Calgary Crew
Calgary Crew:
Consolation Gold (13th)

U19AA
GOLD – Calgary Rogue
Calgary Rogue (Team AB):
5th at CRC's
SILVER – Calgary Rush
Calgary Rush: Bronze at CRC's

Open AA

Calgary RATH - GOLD at CRC's,
National Ringette League Champions
CRCs, PEI (Charlottetown and Summerside) — Apr 7-13
A CRCs to remember in historical and picturesque PEI. Our five teams (three U16 and two U19) made the long journey there (and back…) to capture the East Coast Island spirit and play the fastest game on ice. Amongst the adorable towns and coastal charm, the drive to arenas in Charlottetown and Summerside were inspiring; the cheering inside arenas—deafening.
Congrats to our U16AA Core for winning the National Championship Gold vs PEI (a historic Silver for the host team)—making it the first time since 2011 for Calgary AA!!  U16AA Team AB (Impulse) battled through, but had a heart-breaking OT loss, finishing in 7th.  U16AA Crew played through to win Consolation Gold (13th).
Our U19AA Rush and Team AB (Rogue) met up in a thrilling sister-team showdown, with Rush moving on to claim the Bronze in OT vs Nepean Ravens, and Team Alberta taking 5th place.
NRL Calgary RATH stayed true to course, taking on the challenge to claim the No. 1 spot and Gold vs Atlantic Attack, and their first National Championship title since 2013!! A stellar tournament for these skilled athletes!
Awards and Achievements:
Erin Ung (Calgary Crew) claimed the title of U16 Toughest Competitor at the CRC's.
Skills Competition Winners:

U16 Division -Passing – Kirsten Dempsey Calgary Core
U19 Division - Agility Skating – Shaelyn Corasiniti Team Alberta (Calgary Rogue)
ALL-STAR TEAMS:
U16 DIVISION

Second all-star team:
Goalie: #31 Rachel McKerracher (Calgary, AB) Calgary Core
First all-star team:
Defence: #14 Cayleigh Hasell (Calgary AB) Calgary Core

U19 DIVISION

Second all-star team:

Offence: #4 Ann Sauve (Strathmore AB) Team Alberta
Offence: #14 Jenna Wolsey (Calgary AB) Calgary Rush
Defence: #14 Kat Eamon (Calgary AB) Team Alberta

First all-star team:

Goalie: #31 Kennedy Kryvenchuk (Calgary AB) Calgary Rush

NRL DIVISION

Second all-star team:

Defence:  #11 Rachel Ung (Calgary AB) Calgary RATH
Goalie: #33 Breanna Beck (Red Deer AB) Calgary RATH

First all-star team:

Offence : #9 Shaundra Bruvall (Calgary AB) Calgary RATH

NRL AWARDS:

Top Goalkeeper (the most outstanding goalkeeper)
Brea Beck – Calgary RATH
Esso Golden Ring
The 33rd Esso Golden Ring was held January 18-20, 2019 and hosted Active Start through U19 divisions. There were 169 teams in 18 different divisions including 2 NRL teams.
Participants in the 2019 Esso Golden Ring received a lapel pin, a souvenir poster, a pen and a custom Utility Pouch.   In addition, coaches packages contained misc. coupons, chips, and donated items.
All AS/U10 teams (39) received participation medals for their friendship series.
The e-program was available online
Media coverage was excellent for the event with several stories on CTV which even made the CTV National News.
Photos of all the winners were published in the Calgary Herald and the Calgary Sun.
The committee ran a "why do YOU Play?" initiative which invited teams to submit videos which was very well received.
Level
Calgary
teams
AB
BC
SK
MB
ON
total
out of
town
# in
draw
# of
games
AS
7
1
1
8
12
U10S1
9
4
4
13
20
U10S2
10
8
8
18
27
U10S3
8
0
8
15
U12 A
6
1
1
2
8
15
U12 B
8
1
3
4
12
25
U12 C
9
3
3
12
25
U14 AA
3
2
1
1
1
5
8
19
U14 A
5
1
1
1
3
8
15
U14 B
8
4
4
12
25
U14 C
5
1
1
6
11
U16 AA
3
3
1
1
5
8
19
U16 A
6
1
1
1
1
4
10
21
U16 B
8
3
1
4
12
25
U19 AA
2
3
2
1
6
8
19
U19 A
3
2
1
2
5
8
15
U19 B
5
1
2
3
8
15
Open AA
1
1
1
2
3
106
39
7
14
2
1
63
169
326
There were 326 Games on 437 hours of ice.
Teams registered 2370 players and 967 coaches.
In addition there were more than 100 referees, 373 Arena Volunteers, 141 Minor Official Volunteers, 69 Shot Clock Volunteers and 20 Tournament Committee Members.
Tournament Committee:
Judy Renneberg
Martha Goosens
Kathie Lewis-Welsh
Christine Somer
Colleen Strachan
Shaun Renneberg
Kathy Oke
Joan Hill
Laura Webb
Sarah Curran
John Mader
Dianne Tomko-Baker
Sharon Hul
Ellery Chyzyk
Tracy Beaton
Jason McCallum
Warren Kee
Cassandra Drouin
Jocelyn Beswick
Charlene Hobbs
2019 Esso Golden Ring Champions
U19A Silver - Cal BV Edge (4)
U10S1 Teams at the Esso Golden Ring
U10S2 Teams at the Esso Golden Ring